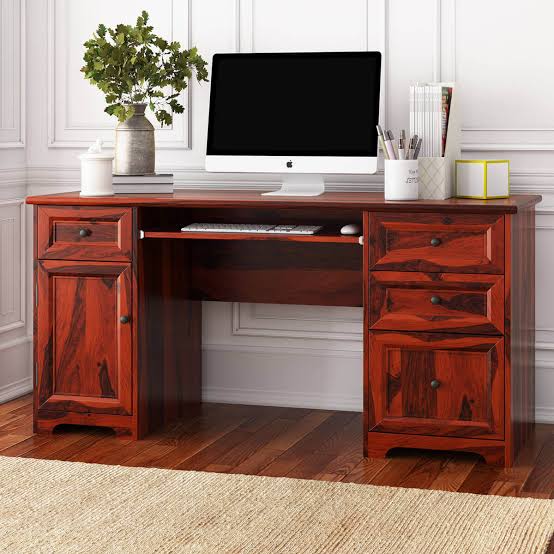 Neo Victorian Study cum Computer Cabinet
Rs.13,999.00
Rs.29,999.00
This high-style neo-Victorian desk looks straight out of the Regency era. Aside from its beautiful wood grain, the double pedestal style build is complemented by neat little traditional touches that lend it a vintage appeal. This computer desk features 4 drawers of varying sizes – 2 on one side, 2 on the other – with a single pullout tray in the center with metal glides. The largest one of the drawers has been designed in the image of a cabinet but is definitely a pullout. Each drawer has a beveled inlay border design and stylish hardware, while the feet have gentle semi-circular corbel-style depressions. The overall look of this desk is quite stunning and would imbue an impressive amount of character in any room it's set up in.
Handcrafted from solid Rosewood, this computer desk warrants a great heirloom quality along with an unfettered grace, style and sturdiness.
The visual versatility of this rustic solid hardwood computer desk is unparalleled. Its flexibility of design can complement any number of interior design styles. So whether you're looking for a centerpiece for your traditional style office interior, or want something to accent your contemporary designs, this desk is definitely the perfect choice for it. Dimensions all in inches L 60" x W 28" x H 30, No. of Drawers 4.
Special Features:
• 100% Handcrafted
• Solid Rosewood craftsmanship
• Neo-Victorian style
• 4 drawers of varying sizes
• Beveled edges in a panel drawer design
• Pullout hardware
• Made in India
• Unique leg design
• Heirloom quality
• Visually versatile
• Easy maintenance