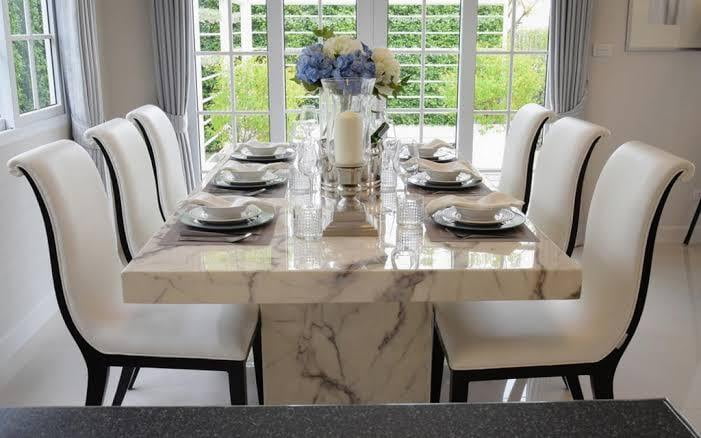 Bridge Italian Marble Dining table Set
Rs.78,950.00
Rs.210,950.00
This dining table set is a perfect blend of elegance and durability. The table top is made of high-quality Italian marble, which is known for its smoothness, hardness, and resistance to stains and scratches. The table base is made of solid wood, which adds stability and style to the design. The table can comfortably accommodate six people, making it ideal for family dinners or gatherings with friends.
The chairs are upholstered with premium fabric, which is soft and comfortable to sit on. The chairs have high backs and cushioned seats, which provide ample support and relaxation. The chairs also have carved wooden legs and arms, which match the table base and create a harmonious look. The chairs come in various colors and patterns, so you can choose the one that suits your taste and decor.
This dining table set is a great addition to any dining room, as it offers both functionality and aesthetics. It is easy to clean and maintain, as you only need to wipe the marble top with a damp cloth and vacuum the fabric chairs occasionally. It is also durable and long-lasting, as it can withstand wear and tear and retain its beauty for years. This dining table set is a worthwhile investment, as it will enhance the value and appeal of your home.
Specification
Table dimensions: 160 cm x 90 cm x 78 cm (length x width x height)

Table weight: 120 kg

Table material: Italian marble (top) and solid wood (base)

Table color: white (top) and brown (base)

Table shape: rectangular

Table features: smooth, hard, stain-resistant, scratch-resistant, elegant, durable

Chair dimensions: 50 cm x 55 cm x 100 cm (length x width x height)

Chair weight: 15 kg

Chair material: fabric (upholstery) and solid wood (frame)

Chair color: various (upholstery) and Black (frame)

Chair shape: curved

Chair features: soft, comfortable, supportive, relaxing, cushioned, carved, stylish, matching